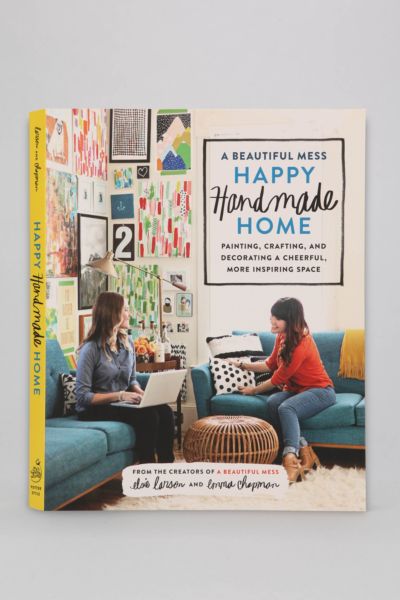 Is it time to reinvent your space? Are you hoping to throw a party and are in need of some eye popping decor and exciting new cocktails? Well here you are! Packed from cover to cover are pages filled with projects to get your creative juices flowing. Here you will find anything from color wheel clocks, to cross stitch stools,to custom serving dishes and even a kids playtime blanket. There are ways to reinvent your refrigerator, your recipe box and even your headboard. And your sweet tooth won't go home empty as you try your hand at cinnamon and olive oil waffles, chocolate chip cookies and birthday cake martinis. So grab some unique supplies and have fun!
I really wanted to like this book, really anticipating it's arrival. I am however disappointed. I have not been a regular on the Beautiful Mess blog, but have stopped by enough to think I'd really get a lot out of the content of this book. And while I can say there are things I do like, for instance the way it is creatively laid out, and the well done photography, there are also things I don't really like. Which unfortunately will be the main premise of the book; the DIY projects. I found them to be very juvenile and quite honestly tacky. I am a very creative person, and love a unique place. But I don't want it to look cheap or thrown together by children. And a lot of these projects looked that way to me. The ideas would be really cute for things like kids parties or camps or a college students place. I can't see most of this stuff in a grown adults home. And the recipes they had, honestly didn't make sense to me. They were just random basic recipes. Nothing to wow you or see the relevance of them being in this particular book. On a whole, I will take a few ideas away from the book for sure, and I'll be able to modify some of the projects to make them a little more classy. But sadly it's not a book I'd tell anyone I was head over heels for.
I received this book from the publisher in exchange for an honest review.